What is it
Cosmetic dentistry is generally used to refer to any dental work that improves the appearance (though not necessarily the function) of a person's teeth, gums and/or bite.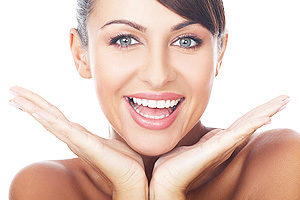 Cosmetic dentistry may involve:
a) the addition of a dental material to teeth or gums - examples: bonding, porcelain veneers (laminates), crowns (caps), gum grafts
b) the removal of tooth structure or gums - examples: enameloplasty, gingivectomy
c) neither adding nor removing dental materials, tooth structure, or gums - examples: teeth whitening (bleaching), gum depigmentation
d) straightening of teeth accompanied by improvement in appearance of face - Orthodontics
Cosmetic dentistry
Veneers
Veneers are used for smile aesthetic correction.





Smile correction by braces takes around 2 years and cannot correct chipped, stained or fanged teeth while with veneers you can get holywood smile within a few days.
Ceramic veneers are very thin and invisible ceramic plates that are cemented to the tooth structure providing perfect "holywood smile". In comparison to standard tooth preparation for classical ceramic crowns, preparation for veneers is less invasive, meaning that only small part of teeth surface has to be prepared. Depth of preparation is only 0,5 mm. Veneers can be made of Press Ceramics, Zirconia or Alumina. Each of those materials has excellent aesthetic features but Alumina provides superior appearance due to its light transmission abilities.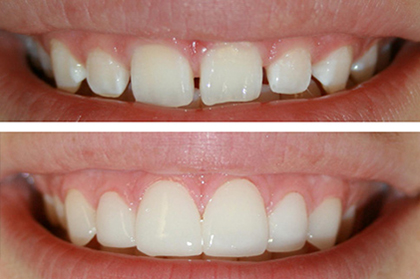 Teeth whitening
Dental bleaching, also known as teeth whitening, is a common procedure in general dentistry but most especially in the field of cosmetic dentistry. As a person ages the adult teeth often become darker due to changes in the mineral structure of the tooth, as the enamel becomes less porous. Teeth can also become stained by bacterial pigments, foodstuffs and tobacco.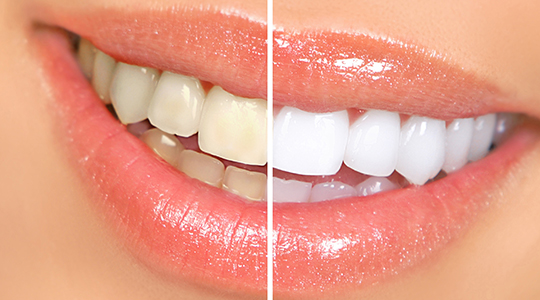 Certain antibiotic medications (like tetracycline) can also cause teeth stains or a reduction in the brilliance of the enamel. Oxidizing agent hydrogen peroxide is used to lighten the shade of the tooth. The oxidizing agent penetrates the porosities in the rod-like crystal structure of enamel and oxidizes interprismatic stain deposits; over a period of time, the dentin layer, lying underneath the enamel, is also bleached. Power bleaching uses light energy to accelerate the process of bleaching.