FAQ
Am I a candidate for a dental implant?
If you are missing one or more teeth due to trauma, tooth decay or gum disease, then you may be a candidate for a dental implant. Dental implants will allow you to smile, speak, and eat with confidence and comfort. For surgery you will need to be of good health and the remainder of you teeth will need to be healthy and free from tooth decay or gum disease. Other conditions will need to be treated before surgery. Also, there needs to be enough bone on the jaw for implant surgery, so we will need to check for bone density using a CT scan. There are bone grafting techniques available for borderline patients.

Why should I have a dental implant?
Losing one or more of your teeth starts a chain of events that can have physical and cosmetic consequences. The most obvious result is a gap in your smile. Less obvious is the loss of chewing function and the inability to eat a complete diet that can result from tooth loss. While these are certainly serious issues, a potentially bigger problem lies hidden beneath the surface: bone loss
Your jawbone needs the chewing action of the teeth to stimulate it and keep it strong. Otherwise it will begin to disappear (atrophy) in the same manner that the unused muscles beneath a cast supporting a broken bone get smaller. Without the support of your teeth and facial bones, your face will begin to look prematurely aged. The good news is that tooth replacement with dental implants offers a solution to help prevent bone loss.
Is the implant ever rejected by the body?
The implant is machined from surgical-grade titanium alloy , which is a biocompatible material. However, there is a slight possibility that it will not integrate with bone. If this were to occur, the implant would be replaced with another one. It is highly unlikely that the second implant would not integrate.
What if I smoke?
Smoking can inhibit proper healing of an implant. However, this does not prevent smokers from having implants successfully placed and restored. However, the implant is twice as likely to fail in a smoking patient than a non-smoking patient.
How much pain will I experience?
Usually mild to minimal. While undergoing treatment, you will receive local anesthesia. You may have mild post-surgical soreness for up to 72 hours. An over-the-counter pain reliever will alleviate the discomfort for most patients.
What will the appearance of my mouth look like during my treatment?
During treatment, you can get a transitional prosthesis that will have the look and feel that you need during this period of healing.
How much time is required to have an implant procedure?
A single dental implant placement is usually completed in less than an hour as an office procedure with local anesthesia.
The implant is then allowed to heal with the bone to form a solid graft. This usually takes 3 or 4 months in the lower jaw and 5 or 6 months in the upper jaw. During this time, the head of the implant usually remains hidden under your gum.
Once you have been given the all clear you can then have your crown, bridge or denture made and fitted.
If you have poor quality bone and bone-grafting procedures are necessary, the overall process can take up to 12 months or more. We will advice you which surgical procedure is best for you.
How much will dental implants cost me?
Costs of dental implants vary depending upon the complexity of the procedure, as you may require a graft, a sinus lift, or multiple implants.
How long does a dental implant last?
If your body accepts the implant, it should last many years if cared for properly. Many implants have been in place for more than 40 years.
Dental implants
What are dental implants?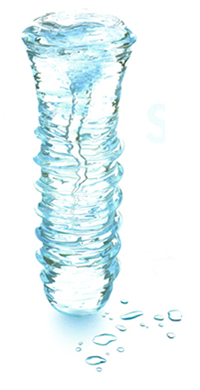 Dental implants are artificial tooth roots used to support a restoration for a missing tooth or teeth, helping to stop or prevent jaw bone loss. The dental implant procedure is categorized as a form of prosthetic (artificial replacement) dentistry, but also is considered a form of cosmetic dentistry. Dental implants can be used to support crowns, bridges or dentures.

People who have lost teeth might feel too self-conscious to smile or talk. Additionally, biting irregularities caused by tooth loss can have a negative effect on eating habits, leading to secondary health problems like malnutrition. By replacing missing tooth roots, dental implants provide people with the strength and stability required to eat all the foods they love, without struggling to chew. Additionally, dental implants stimulate and maintain jaw bone, preventing bone loss and helping to maintain facial features.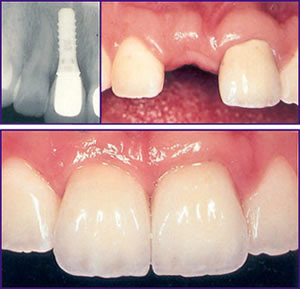 Dental implant restorations are virtually indistinguishable from other teeth. This appearance is aided in part by the structural and functional connection between the dental implant and the living bone. Implants are typically placed in a single sitting but require a period of osseointegration. Osseointegration is the process by which the dental implant anchors to the jaw bone. It usually takes from three to six months to anchor and heal, at which point your dentist can complete the procedure by placing a crown restoration.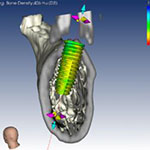 The latest technology makes it possible to do your dental implants without classic surgical procedure, blood or stiches, making healing period much shorter and gentle for the patients. Based on dental CAT scan dentist can plan exactly the best position, depth and angle of the implants before operation, making it perfectly safe for the patients. For the patients required several implants a 'stent' may sometimes be used to facilitate the placement of implants. A surgical stent is an acrylic wafer that fits over either the teeth, the bone surface or the mucosa (when all the teeth are missing) with pre-drilled holes to show the position and angle of the implants to be placed. The surgical stent is produced using stereolithography following computerized planning of a case from the CAT scan. This kind of procedure is possible only if the jaw bone is thick enough to accommodate implants and there is a no need for bone augmentation.

Challenges in Implant Dentistry
Bone deficiency
The biggest challenges in implant dentistry today come with a bone deficiency. Once you lose your tooth a jaw bone start atrophying in the area where a tooth was previously placed. Very often there are situations where the bone does not have adequate thickness to accommodate an implant so we need to build additional bone prior implant surgery. This process is known as bone augmentation.
Aesthetic appearance
Besides restoration of normal chewing function with dental implants we have to take into the consideration aesthetic aspect too, particularly in front area of the mouth. By losing a tooth and the related bone atrophy, patients also have a soft tissue resorption (gingiva). In order to create completely natural and healthy look, sometimes it is necessary to do soft tissue transplantation and re-shaping. This process is called soft tissue management or GTR (Guided Tissue Restoration).
Immediate loading (setting the crown or bridge on the implant immediately after implantation)
One of the major issues in dental implantology today is a time necessary to finish the procedure. There were many attempts to find a way to do immediate loading but all of them ended in much smaller success rate. There are just few indications for immediate loading. Once dental implant is placed into the position it needs a time for osseointegration (to make biological bonds with your bone). This period lasts 3 months for mandibula (lower jaw) and 6 months for maxilla (upper jaw). During that period implant should not be suffering any physical force (pressure or torque) as any force can disrupt this bonding. There are only two situations allowing immediate loading:
Implant with single crown at aesthetic zone (front) if the bone quality and achieved implant primary stability are extremely good.
All-on-4 (or All-on-6). It is a procedure with implant angulations used for toothless jaws only.
Standard procedure

Phase 1 - Dental treatment planning
Based on CT scan dentist performs analysis of the bone structure and quality necessary for planning of number and location of required dental implants .
Phase 2 (if necessary) - bone augmentation
For some people, bone loss after the removal or loss of teeth leaves them without enough bone in the jaw to secure dental implant. If the bone is not thick enough for implants to be placed, it can be extended by autogenous bone or a bone substitute.
Phase 3 - Implant surgery
Dental implant is surgically placed in the jaw bone. The procedure is fast and painless as it is performed under local anaesthesia.
Phase 4 - Osseointegration
Once the implant has been placed, it is left to heal and integrate with the jaw bone for 3 months for lower jaw or six months for upper jaw. If we load the dental implant too soon , it is possible that the dental implant will move which results in failure and additional complications .
Phase 5 - Prosthetic work
After the healing period support for dental replacement (abutment) is attached to the implant. Few weeks later we'll have nice soft tissue emergence profile and final restoration can be placed.